cyberboy666
cyberboy666 & user43368831 presents is an umbrella label for various art projects created by Tim Caldwell
My interests include experimental video-art and live video performances, DIY electronics and upcycling obsolete consumer equipment, outsider film making and cult film curating, DIY event organizing and community spaces.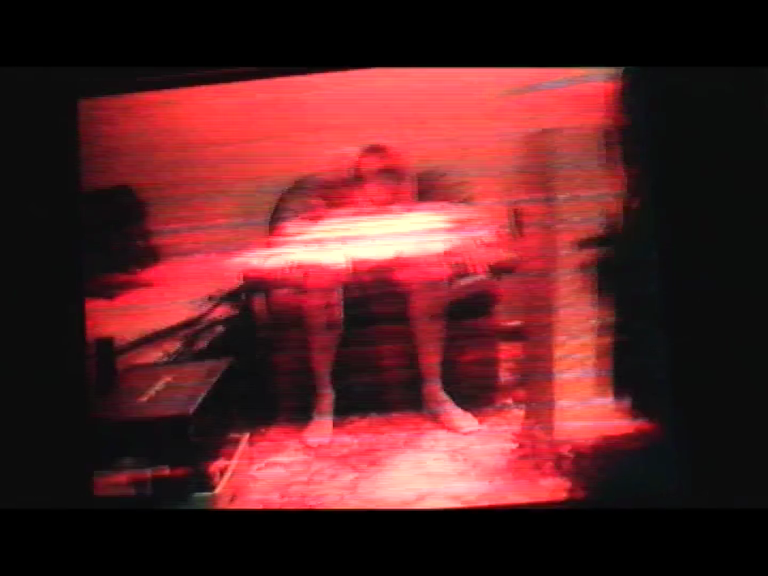 the cyberboy666 pseudonym primarily applies to my experimental video-art project created to explore ecstasy, confusion and decay through lo-fi DIY circuits, discarded VHS and misused video hardware.
click on each entry for pictures, videos and more info
art projects timeline
2014-10 to 2015-01 - co-hosted and coordinated events at Homies Cosy Teahouse - Koha cafe, venue and community space

opened by Naomi Smith, more info about the space here

while in this space i curated a film night for the main area and also began experimenting with a 'secret' proto-TRASHPALACE cult/outsider film night in the back room. making it exclusive must have worked as these screenings were more popular than the main nights ! (pictured below)
2015-09 - wrote, directed and self-produced an independent experimental film empty your MINDZONE

a no-budget cyberjunk experiment
2016-01, ongoing - conceived cyberboy666; begun experimenting with video-bending , collecting obsolete video hardware, making some video-art shorts

my exploration seires of video-art shorts were made to explore the aesthetics of new gear in my setup

exploration #1

Ian Matthews and i started poking around (carefully) inside a vhs player. i made a short using this and a damaged bowie cassette i found:

exploration #2 (corporate sponsorship)

video made with a simple diy vga-synth i started building as part of a work hackathon:

exploration #3

some ps1 circuit bending, would later use this in my interactive glitch-art installation Parasitic Circuitry:

exploration #4

experiments with symmetry and video synthesis (first plays on my edirol v4). inspired by moments from a improvised hardware jam with leo and laurence

exploration #5

i finally got around to building my cfog video equations and managed to track down a korg entrancer = 8-bit graphics and 90s rave aesthetics !

exploration #6

video inspired by my live liquid light set at Backyard Session accompanying Henry's (BE.) dreamy compositions
2016-04 - created and released welcome to the PLEASUREDOME , a collection of live hardware video performances / music videos

a live hardware visual set

using video collages created by some of my favorite films and remixed as video-art in real time. loosely inspired by the energy and passion of the minority subcultures at the heart of the first wave of house-music
2016-06 - performed live improvised A/V jams with DESTROY WITH SCIENCE at Art~hack, Wellington

Matt McKegg (DWS) and i have performed improvised live a/v sets together on a number of occasions. Matt performs electronic music using open-source javascript software he created called loopdrop. we have similar approaches/interests in improvising, diy, hardware etc which makes collaborating a pleasure
2016-07 - created DEADCHANNEL teevee wall installation with Ian Matthews

more info about this installation at its project page
2016-08 - exhibited DEADCHANNEL teevee wall and performed 6 hour live visual set at 121 Office block Rave / Multimedia Art Show

121 curates a number of popular dance party events in Wellington.

(video and photos by Emmi Walden-McLean)
2016-08 - exhibited DEADCHANNEL and performed live a/v with DWS for OS//OS after party

OS//OS - Open Source, Open Society Conference After Party !
2016-09 - performed live visuals for 121 Meow Rave
2017-02 - performed live visuals for Taniwha's Den - an annual dance music festival in the Wairarapa

(photos by Kelly Kellective)
2017-02 to 2017-12 - relaunched TRASHPALACE, a weekly celebration of outsider, strange, experimental and cult cinema

more info about this at the TRASHPALACE subsite

[][TRASHP]
2017-03 - organized, co-hosted and curated day-festival / amateur art showcase BACKYARD SESSION 1

Courteney Lomas and i thought it would be fun to put on an event in her backyard to share the various art/music projects our friends are involved in. turns out it was.

in such a relaxed and supportive environment it was nice to experiment with ideas i had never tried live before. Catherine and i put together a noise set to open the basement stage. my visual set with Henry was the first time performing with live liquids, and my MX50 mixer got his first live outing performing with Matt.

a playlist of full sets from the basement can be viewed thanks to Matts gopro

(photos by Courteney Lomas and Andy Raba)
2017-03 - performed live visuals for 121 BLOCK PARTY

(photos by Rob Burrows)
2017-06 - curated and hosted 12hour film event - BLACKMASS - a (half) marathon of filth

more info about this at the TRASHPALACE subsite
2017-07 - created PARASITIC CIRCUITRY interactive glitch-art installation

more info about this installation at its project page
2017-07 - composed and recorded two mushrooms KNOCKING for Radical Mycology Mixtape

Radical Mycology was looking for submissions of mushroom related tracks for the Radical Mycology Mixtape Vol. 1. Catherine, Victoria and i banged some mushrooms together, recording ambient and percussive mushroom sounds and remixed Derek Mahon's poem a disused shed in county wexford to create two mushrooms KNOCKING. i made a video from some mushy visuals i had just recorded.

this video contains the demo recording:

for a more polished audio recording checkout the Radical Mycology soundcloud :
2017-09 - exhibited PARASITIC CIRCUITRY and DEADCHANNEL installations for 121 Underground

(photos by Rob Burrows)
2017-10 - established and hosted the tableh00ters - toykeyboard meditative jam sessions

more info about this at the tableh00ters subsite
2017-10 - exhibited DEADCHANNEL for UPSIDEDOWN - Massey University Dark-Ambient Boxing-Ring showcase
2017-11 - performed live crt a/v set with DWS for Eyegum Wednesdays

(photos by Sam Blyth Collective)
2017-11 - co-created Getting Out of Bed - a short experimental film as 1/2 of WEMAKEPORN

more info about this at the WEMAKEPORN subsite
2017-12 - organized, co-hosted and curated day-festival / amateur art showcase BACKYARD SESSION 2

Backyard #1 was so nice Courteney and i decided to put on one more:

photos by Courteney. Matt outdid himself and shared a playlist of video recordings for all sets, day and night.
2017-12 - co-composed and performed live score for 1933 experimental film LOT IN SODOM as 1/2 of WEMAKEPORN

more info about this at the WEMAKEPORN subsite
2018-05 - designed, developed and released r_e_c_u_r , an open diy video sampler for live performance

more info about this at the r_e_c_u_r subsite
2018-06 - started work for On the Urban Motorway Pedestrian Corridor

an unrealised multi-channel installation piece. maybe it will become something oneday… i actually quite like this 3 min demo as it is :
2018-07 - Official video for DESTROY WITH SCIENCE - Show

most of this year my focus has been on toolmaking (see r_e_c_u_r ) and travelling (without video gear), so not too much time for composing new video-art. i decided to concentrate my efforts on a series of commissioned music videos for some friends. This is the first, made with from DWS, (my longest collaborator) to coincide with his new EP Digital Devices.
2018-08 - Official video for Owls Are Not + Certifyd - Asali

the next collaboration was an international effort, working with Piotr Dang from Owls Are Not (Poland) and vocalist Certifyd (Malaiwi) for their release Asali SP on 1000HZ Records / Atypeek Music Records
2018-09 - (pending) Official video for Peach Lane - House Party

currently pending an 'official release' due to technical / bureaucratic reasons , this is an unofficial preview of the abstract colours and textures used to evoke sweet dream-pop from Adelaide, Australia.
2018-10 - toolmaker in resident at Signal Culture in New York

it so happened that my plans to travel outside nz coincided with an invitation to spend some time working on my r_e_c_u_r project at Signal Culture in Owego, New York. This was an amazing experience which i want to write about in more detail soon. In short i used this opportunity to explore and push the limits of what a raspberry pi based video instrument could do. there is a more detailed write-up on this research on the github. Hopefully these new features will make it to a stable release soon !